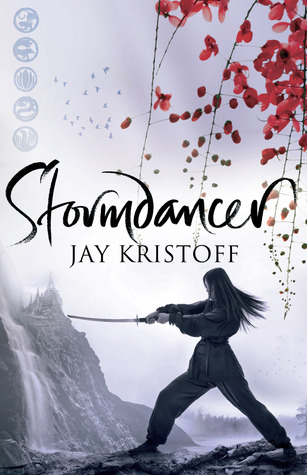 Published in: 2012
Pages: 451
Edition read: Paperback
Series: Book 1 in the Lotus Wars
Book description:
Arashitoras are supposed to be extinct. So when Yukiko and her warrior father Masaru are sent to capture one for the Shõgun, they fear that their lives are over – everyone knows what happens to those who fail the Lord of the Shima Isles. But the mission proves less impossible and more deadly than anyone expects. Soon Yukiko finds herself stranded: a young woman alone in her country's last wilderness, with only a furious, crippled arashitora for company. Although she can hear his thoughts, and saved his life, all she knows for certain is he'd rather see her dead than help her. Yet trapped together in the forest, Yukiko and the beast soon discover a bond that neither of them expected.
Meanwhile, the country around them verges on collapse. A toxic fuel is choking the land, the machine-powered Lotus Guild is publicly burning those they deem Impure, and the Shõgun cares for nothing but his own dominion. Authority has always made Yukiko, but her world changes when she meets Kin, a young man with secrets, and the rebel Kagé cabal. She learns the horrifying extent of the Shõgun's crimes, both against her country and her family.
Returning to the city, Yukiko is determined to make the Shõgun pay – but what can one girl and a flightless arashitora do against the might of an empire?
My review:
I brought this book at Supanova 2013- a sort of Comicon that we have here in Australia. I was actually meeting Kylie Chan, and as I was waiting in line for her to sign my book, jackass in the next booth started in on why I wasn't getting a book signed by him. Somehow I ended up buying his book and getting it signed by him. And that is the story of how I met Jay Kristoff and now own a signed copy of his book. My memory of meeting him is that he was rude- but I wasn't about to let that influence my impression of his book. Silly me.
Well. I tried to read this book about 6 times before I managed to finally get into it. I would read three pages and give up, because it was horrible. Reading other people's reviews I realised it wasn't just me- the first 85 pages of this book are awful. The author is really into expressive writing, so everything is described in minute detail- and it is painful. Nothing happens for the first 85 pages, it's just description of this world (which is a fake under-researched version of Japan). However, if you stick at it, it does pick up.
The book was poorly researched, badly written, but there is a solid story behind it. Yukiko is the protaganist with a strange ability to be able to talk to animals minds, and this helps her to form a bond with an Arashitora (aka a Griffin) and together they try to overthrow a corrupt ruler. It's got the idea down, but the execution is lacking. The characters are well thought out and created, but the writing style lacks the finesse of an experienced writer- from over-descriptive language at the beginning, to almost no description throughout the rest of the book; or switching between Japanese and English constantly, sometimes repeating a word in a sentence in both languages.
If you can get past the first 85 pages, it is a good story but it needed to be much better researched, written, and proof-read. Also, the author needs to work on getting a personality instead of being a dick.
Final review:
Stormdancer rating: 4.5/10
Would I re-read it? Maybe.
Who would I recommend it to? Fantasy fans- but only if you are someone who can plow through the boring bits to get to the good bits; if you are someone who doesn't finish books, then don't bother. I definitely do not recommend this to anyone who is familiar with Japanese culture as this is a very loose representation of it and most negative reviews I read had to do with the fact that it was so poorly researched, so it seems like that is hard to get past.
Links:
Goodreads: https://www.goodreads.com/book/show/10852343-stormdancer