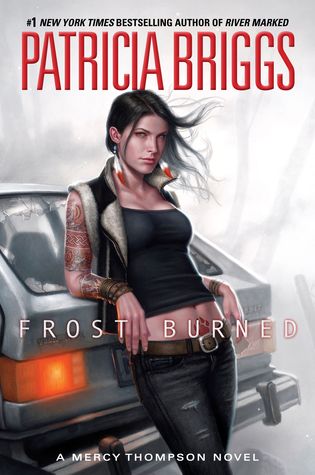 Published in: 2013
Pages: 342
Edition read: E-book
Series: Book 7 in the Mercy Thompson series
Book description:
Mercy Thompson's life has undergone a seismic change. Becoming the mate of Adam Hauptman – the charismatic Alpha of the local werewolf pack – has made her a stepmother to his daughter Jesse, a relationship that brings moments of blissful normalcy to Mercy's life. But on the edges of humanity, a minor mishap on an ordinary day can turn into so much more…
After an accident in bumper-to-bumper traffic, Mercy and Jesse can't reach Adam – or anyone else in the pack for that matter. They've all been abducted.
Through their mating bond, all Mercy knows is that Adam is angry and in pain. But she fears Adam's disappearance may be related to the political battle the werewolves have been fighting to gain acceptance from the public – and that he and the pack are in serious danger. Outmatches and on her own, Mercy may be forced to seek assistance from any ally she can get, no matter how unlikely.
My review:
Damn, this book was good. Adam and the pack have been kidnapped, and Mercy is hurt and mad, so you know it's gonna be a bloody good book. Asil has been sent down to help, so that adds an extra element to the mix – as Asil is my favourite character in this series (closely followed by Tad and his angry father), and speaking of Tad and his father, the older Fae is stuck in Fairyland as a result of the actions of the previous book, meaning only half-Fae are left outside of Fairyland. Meaning Tad is one of the few people Mercy can call on to help her track down Adam and the pack.
There's a bit of German thrown into the book, which, as a language I am studying/learning, was immensely amusing and frustrating to translate. There was also a sad unexpected death, which I'm wondering how will affect things going forward as although it was a minor character, it was a big character in terms of pack dynamics- so that will have interesting and long-reaching effects. There was also a massive battle at the end with Mercy and Marsila on the same side- I know, shocking, but actually really good to see a human-like side to Marsila.
Overall, it was a non-stop action packed book filled with so many twists and turns that it was hard to put down, and hard to see how Mercy managed to keep on her feet throughout it because I was exhausted just reading it!
Final review:
Frost Burned rating: 8.5/10
Would I re-read it? Yes
Who would I recommend it to? Fans of the series and author, of paranormal romances, werewolves and vampires, action packed mysteries.
Links:
Goodreads: https://www.goodreads.com/book/show/13413589-frost-burned
Author's site: http://www.patriciabriggs.com/books/frostBurnedChapter.shtml
Amazon: https://www.amazon.com/Frost-Burned-Thompson-Patricia-Briggs/dp/044102002X