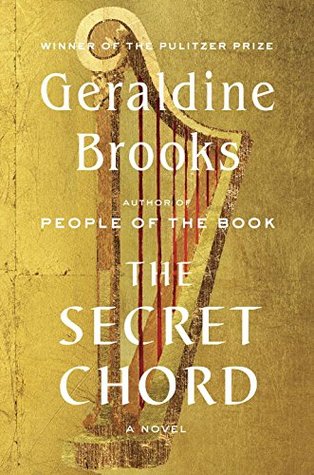 Published in: 2015
Pages: 302
Edition read: hardcover
Book description:
Peeling away the myth to bring the Old Testament's King David to life in Second Iron Age Israel, Brooks traces the arc of his journey from obscurity to fame, from shepherd to soldier, from hero to traitor, from beloved king to murderous despot and into his remorseful and diminished dotage.
The Secret Chord provides new context for some of the best-known episodes of David's life while also focusing on others, even more remarkable and emotionally intense, that have been neglected.  We see David through the eyes of those who love him or fear him—from the prophet Natan, voice of his conscience, to his wives Mikhal, Avigail, and Batsheva, and finally to Solomon, the late-born son who redeems his Lear-like old age. Brooks has an uncanny ability to hear and transform characters from history, and this beautifully written, unvarnished saga of faith, desire, family, ambition, betrayal, and power will enthrall her many fans.
My review:
This book is told through the eyes of a prophet writing down the life of David, who is this intriguing character, he is hard to like, while being likeable. He is a musical genius who inspires loyalty in his men by being normal and flawed, and by golly is he flawed. He is prone to rages, he is deceitful and scheming, he is petty and a womaniser, he is also completely blinded by his love for his sons, and this leads to some really bad moments for poor old David.
The story goes through David's life and times, shows his many wives and sons, his misfortunes and triumphs, and it was all vividly told. However, I found myself wishing David would die multiple times throughout the books, and feeling so sorry for his poor wives and his poor daughter – what happened to his daughter was disgusting, and his son that did all that, his death was too good for him. His son Slomo (Solomon) though, he was a spark of hope in the darkness of David's later years, and I'd like to read a book about his life and his achievements, as it seemed that he was what the people of Israel needed after David's reign.
It was an interesting read, but I had issues with some parts of the book and the characters, and it didn't quite engage me as I had hoped it would.
Final review:
The Secret Chord rating: 6/10
Would I re-read it? Probably not
Who would I recommend it to? Fans of historical fiction and biblical fiction/stories.
Links:
Goodreads: https://www.goodreads.com/book/show/24611425-the-secret-chord
Wikipedia: https://en.wikipedia.org/wiki/The_Secret_Chord
Amazon: https://www.amazon.com/Secret-Chord-Novel-Geraldine-Brooks/dp/0143109766