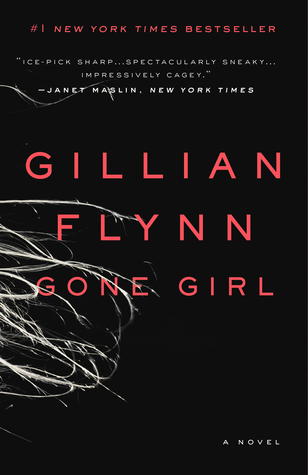 Published in: 2012
Pages: 415
Edition read: Paperback
Book description:
On a warm summer morning in North Carthage, Missouri, it is Nick and Amy Dunne's fifth wedding anniversary. Presents are being wrapped and reservations are being made when Nick's clever and beautiful wife disappears. Husband-of-the-Year Nick isn't doing himself any favors with cringe-worthy daydreams about the slope and shape of his wife's head, but passages from Amy's diary reveal the alpha-girl perfectionist could have put anyone dangerously on edge. Under mounting pressure from the police and the media—as well as Amy's fiercely doting parents—the town golden boy parades an endless series of lies, deceits, and inappropriate behavior. Nick is oddly evasive, and he's definitely bitter—but is he really a killer? 
My review:
This book… bloody hell. It infuriated me so much, I read this weeks ago and it still angers me with the ending. So first part of the book, Nick's the bad guy and we feel sorry for Amy. Second part of the book, Amy is a psycho manipulative bitch and we feel sorry for Nick, and at the end of it, I want them both to die because seriously, they suck. Mainly Amy sucks tho, there is something seriously wrong with this lady who manipulates the shit out of everyone around her because things aren't going her way, she ruins multiple lives of people throughout her life including her own parents, and she also kills someone because it's freaking convenient to the story she is weaving. Also, Amy is 'perfect' and the book keeps mentioning how 'perfect' she is to the point where she's such an ugly character who is terrible to every single person she encounters that I am amazed she doesn't shrivel up into a husk because clearly, there is not a single redeeming quality in this pretty perfect woman. Not a single one.
In short, this book made me super angry and boy, do I hates it. The fact that this book won so many awards and was the 'it-book' a few years back, and they made an actual movie out of it, actually baffles me. This book sucks. So much. I hated the characters, the story, the scenarios, the ending, every bloody thing. I rarely have felt this level of anger over a book before. On the plus side, it was a well-written book.
From reading other people's reviews on this book, you either love this book and the mystery, or you hate it passionately and mock it because it's just… yeah.
Final review:
Gone Girl rating: 3/10.
Would I re-read it? No. This level of anger cannot be good for me. And as I can't actually leap into this book and strangle the Amy character, there's no point in me re-reading this book!!
Who would I recommend it to? Boy. That's tough. I guess if you saw the movie, then read the book.
Links:
Goodreads: https://www.goodreads.com/book/show/19288043-gone-girl
Wikipedia: https://en.wikipedia.org/wiki/Gone_Girl_(novel)