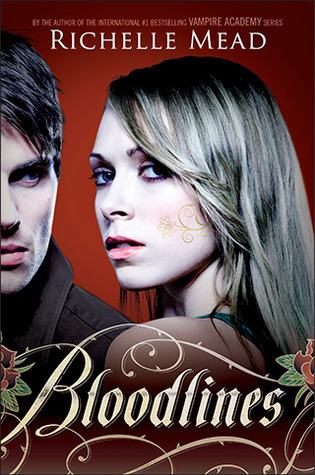 Published in: 2011
Pages: 421
Edition read: Paperback
Series: Bloodline series book 1
Book description:
Sydney's blood is special. That's because she's an alchemist – one of a group of humans who dabble in magic and serve to bridge the worlds of humans and vampires. They protect vampire secrets – and human lives. But the last encounter Sydney had with vampires got her in deep trouble with the other alchemists. And now with her allegiences in question, her future is on the line.
When Sydney is torn from her bed in the middle of the night, at first she thinks she's still being punished for her complicated alliance with dhampir Rose Hathaway. But what unfolds is far worse. Jill Dragomir – the sister of Moroi Queen Lissa Dragomir – is in mortal danger, and the Moroi must send her into hiding. To avoid a civil war, Sydney is called upon to act as Jill's guardian and protector, posing as her roommate in the unlikeliest of places: a human boarding school in Palm Springs, California. The last thing Sydney wants is to be accused of sympathizing with vampires. And now she has to live with one.
The Moroi court believe Jill and Sydney will be safe at Amberwood Prep, but threats, distractions, and forbidden romance lurk both outside – and within – the school grounds. Now that they're in hiding, the drama is only just beginning.
My review:
Bloody hell, I forgot how addictive these books are. I should have read this as soon as I finished the Vampire Academy series, but nooooo. Anyways. Sydney is a really prim and proper character at the beginning of this book, but it's interesting to watch her become more comfortable around the vampires and damphirs as the book (and the series) goes on.
The best character of the series is Adrian, who had me giggling a few times with the things he comes up with. He's a bit of a misunderstood person, but Sydney gets him and watching them interact is what keeps me going through this book.
So this book was hella addictive, I could barely put it down and found myself constantly thinking about it when I wasn't reading it because I had to adult and go to work (urgh being a responsible adult suuucckkss) and I found that even though the characters are all in high school, I didn't have much difficulty relating to them like I normally do with YA fiction.
I'm now currently devouring the rest of this series and it's just getting more and more bloody addictive. Damn you Richelle Mead.
Final review:
Bloodlines rating: 10/10
Would I re-read it? Hells yes.
Who would I recommend it to? Fans of the vampire academy series, fans of the author, fans of young adult paranormal fiction featuring vampires.
Links:
Goodreads: https://www.goodreads.com/book/show/8709527-bloodlines
Wikipedia: https://en.wikipedia.org/wiki/Bloodlines_(series)
Author's site: http://www.richellemead.com/books
Amazon: https://www.amazon.com/Complete-Richelle-Bloodlines-Golden-Shadows/dp/B016OGT57W