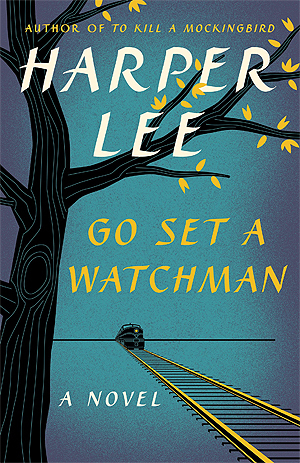 Published in: 2015
Pages: 278
Edition read: E-book
Book #: Book 2 in the To Kill A Mockingbird Series
Book description:
Maycomb, Alabama. Twenty-six-year-old Jean Louise Finch–"Scout"–returns home from New York City to visit her aging father, Atticus. Set against the backdrop of the civil rights tensions and political turmoil that were transforming the South, Jean Louise's homecoming turns bittersweet when she learns disturbing truths about her close-knit family, the town and the people dearest to her. Memories from her childhood flood back, and her values and assumptions are thrown into doubt.
My review:
Okay, so I loved To Kill A Mockingbird (from now on referred to as TKAM). I had high hopes for this… such high hopes.
So the main character Scout/Jean Louise is now 26 rather than 9, she's a sophisticated New Yorker whose headed home for her yearly visit and she's an angry little munchkin. There's this new character Hank, who she's dating and who wants to marry her and who moved in over the road after the events of TKAM. Hey, guess what, one of the main characters from TKAM is dead. Jean Louise mentions it in passing. A few chapters later, we get explanation of how he died. That's it. Hank has replaced Dill, we get a vague few sentences about how he's off travelling. We have vague descriptions on how some of the other characters are no longer really in this story, mostly glossed over, and it's infuriating.
Does the writer not care at all about these characters she spent the entire TKAM discussing? Clearly not. There are some scenes that are memories of when Jean Louise was a kid, and they are the highlights of the book. Everything else was drivel or worse. Basically, this book was a major waste of my time, and I should have left it at TKAM and the greatness that that book had.
I think the magic of TKAM lies with the innocence of Scout, Jem, and Dill. Their adventures make the book worth reading. This book, we have Jean Louise and she's a cynical young lady who doesn't fit in with her hometown anymore, and that's about it.
Final review:
Go Set A Watchman rating: 4/10.
Would I re-read it? No.
Who would I recommend it to? Urm… normally, I'd say anyone whose a fan of TKAM. With this book, I'm saying if you were a fan of TKAM, don't read this as this will ruin everything TKAM established. I'm not recommending this book to anyone. Sorry. Don't waste your time. If you want to read a good book, I recommend reading TKAM instead.
Links:
Goodreads: https://www.goodreads.com/book/show/24817626-go-set-a-watchman
If you want more links, google them yourselves. I was just so disappointed with this book that I can't waste any further time on it.