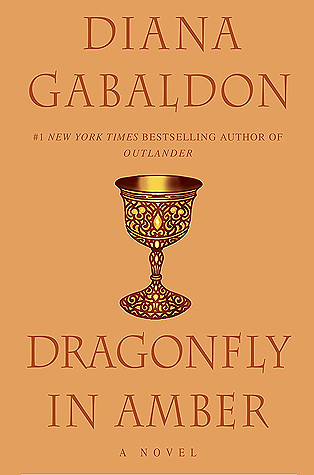 Published in: 1992
Pages: 743
Edition read: Paperback
Book #: Book 2 in the Outlander series
Book description:
For nearly twenty years Claire Randall has kept her secrets. But now she is returning with her grown daughter to Scotland's majestic mist-shrouded hills. Here Claire plans to reveal a truth as stunning as the events that gave it birth: about the mystery of an ancient circle of standing stones… about a love that transcends the boundaries of time… and about Jamie Fraser, a Scottish warrior whose gallantry once drew a young Claire from the security of her century to the dangers of his.
Now a legacy of blood and desire will test her beautiful copper-haired daughter, Brianna, as Claire's spellbinding journey of self-discovery continues in the intrigue-ridden Paris court of Charles Stuart… in a race to thwart a doomed Highlands uprising… and in a desperate fight to save both the child and the man she loves.
My review:
So it's been about 2 years since I read the first Outlander novel, and I was worried I'd forgotten the characters and the story. Nope. Within pages, I was right back into it. I was disappointed to see this book starts off 20 years in the future, and surprised that Claire has a daughter. But once she starts getting into the story of her and Jaime, it's right back into the story as it was left off in the first book, and I was totally happy again.
Claire and Jaime seem to attract an awful lot of trouble for two innocent people, and they make for a fantastic read. Their love is so passionate and exciting and pure. It's as great as their adventures and the trouble they always get into. It's a long book, but it's hard to put down and I didn't find myself getting bored at any point, even with the length of the book. It's quality reading, exciting and engaging and just plain fun.
I've been reading this so I can start watching season 2 of Outlander as it's being shown here now. I've taped the episodes shown so far, and now that I've finished the book, I'm reading to start the series- which is going to be amazing, if it's even a quarter as good as the book.
Final review:
Dragonfly in Amber rating: 10/10
Would I re-read it? Hells yes
Who would I recommend it to? For fans of the series, both book and television series. For fans of time travel, historical romance, or the Scottish highlands and their highlander warriors.
Links:
Goodreads: https://www.goodreads.com/book/show/5364.Dragonfly_in_Amber
Wikipedia: https://en.wikipedia.org/wiki/Dragonfly_in_Amber
Author's website: http://www.dianagabaldon.com/books/outlander-series/dragonfly-in-amber/
Amazon: https://www.amazon.co.uk/Dragonfly-Amber-Outlander-Diana-Gabaldon/dp/0099294710