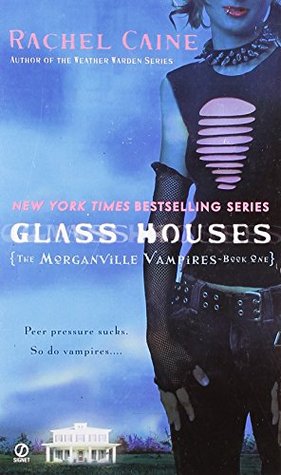 Published in: 2006
Pages: 239
Edition read: Paperback
Book #: Book 1 in the Morganville Vampires Series
Book description:
College freshman Claire Danvers has had enough of her nightmarish dorm situation. When Claire heads off-campus, the imposing old house where she finds a room may not be much better. Her new roommates don't show many signs of life, but they'll have Claire's back when the town's deepest secrets come crawling out, hungry for fresh blood. Will she be able to face the town's terror or will she drown like everyone else?
My review:
I originally read this book years ago, back before I had a Goodreads account or this review blog (so we are talking pre-2009 here) and I had loved the book then. I always meant to get back to this series, but other books came along and I forgot about this lovely little book and series- until now.
Re-reading this book, I remembered why I loved it. I could hardly put the book down, it was like I was reading it for the first time. The characters are great, young but well-formed. The story is fast-paced and action packed, and you are trying to figure out this strange world along with Claire. Then there is the budding relationships. I love Claire and Shane together (Shane is hot), and Michael and Eve are a cute little duo.
The book is short, quick and easy to read, there is a lot of story packed into the few pages but it is done well, and you are left on a cliff-hanger; it basically ends mid-scene. (Thankfully, book 2 continues the scene where book 1 leaves off). I shamefully picked up book 2 straight after finishing book 1, and read that in mere hours. I regret nothing.
Final review:
Glass Houses rating: 9/10. I love this book, a second read through did nothing to dim that love and adoration.
Would I re-read it? Yes
Who would I recommend it to? For fans of vampire/paranormal romances.
Links:
Goodreads: https://www.goodreads.com/book/show/27266.Glass_Houses
Wikipedia: https://en.wikipedia.org/wiki/The_Morganville_Vampires
Amazon: http://www.amazon.com/Glass-Houses-Morganville-Vampires-Book/dp/0451219945
Authors website: http://www.rachelcaine.com/
Wikia: http://morganvillevampires.wikia.com/wiki/Glass_Houses