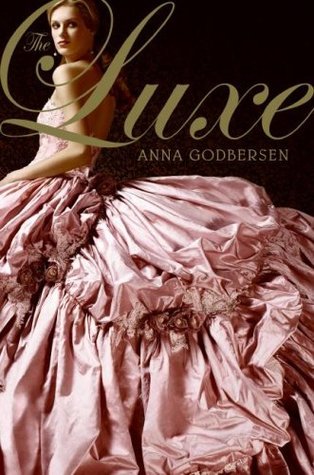 Published in: 2007
Pages: 433
Edition read: Paperback
Book #: Book 1 in the Luxe series
Book description:
Pretty girls in pretty dresses, partying until dawn. Irresistible boys with mischievous smiles and dangerous intentions. White lies, dark secrets, and scandalous hookups. This is Manhattan, 1899.
Beautiful sisters Elizabeth and Diana Holland rule Manhattan's social scene. Or so it appears. When the girls discover their status among New York City's elite is far from secure, suddenly everyone–from the backstabbing socialite Penelope Hayes, to the debonair bachelor Henry Schoonmaker, to the spiteful maid Lina Broud–threatens Elizabeth's and Diana's golden future. With the fate of the Hollands resting on her shoulders, Elizabeth must choose between family duty and true love. But when her carriage overturns near the East River, the girl whose glittering life lit up the city's gossip pages is swallowed by the rough current. As all of New York grieves, some begin to wonder whether life at the top proved too much for this ethereal beauty, or if, perhaps, someone wanted to see Manhattan's most celebrated daughter disappear… In a world of luxury and deception, where appearance matters above everything and breaking the social code means running the risk of being ostracized forever, five teenagers lead dangerously scandalous lives. This thrilling trip to the age of innocence is anything but innocent.
My review:
Yet another series I've been meaning to read forever! This book was a good intro into the world of the glamorous wealthy elite of New York at the end of the 19th century. The characters are stiff at first, but then you begin to learn their secrets and they become so much more interesting and fun.
The first page of the book is the funeral notice for one of the main characters, Elizabeth, so I spent the rest of the book trying to find clues to how she might die and who may have done it (because someone had to have done something, right?), but then seeds of doubt begin- did she really die? You don't find out what actually happens until the last 3 pages, so everything in between is a lead-up to this, all these secrets and lies and trysts. It's quite fun to read.
I'm eager to start the second book now, as I want to know what happens. Does Penelope get her comeuppance? Cause she's a bitch. What happened to Will, did he make it across to California, and will his beloved be able to find him? And most importantly, what will happen between Henry and Diana, who are by far the two best characters of the book.
Final review:
The Luxe rating: 8/10
Would I re-read it? Yes I would
Who would I recommend this to? Anyone interested in the teenage affairs of the late 19th century in the rich circles of New York's elite. It would be suitable for fans of historical romances and young adult fiction.
Links:
Goodreads: https://www.goodreads.com/book/show/1254951.The_Luxe
Wikipedia: https://en.wikipedia.org/wiki/The_Luxe
Amazon: http://www.amazon.com/The-Luxe-Anna-Godbersen/dp/0061345687