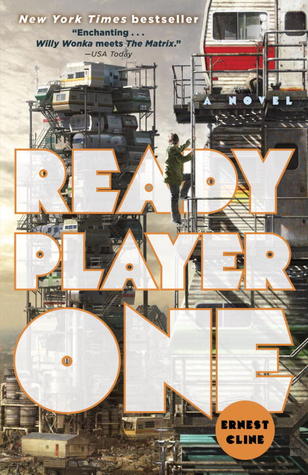 Published In: 2011
Pages: 372
Edition read: Paperback
Book description:
It's the year 2044, and the real world is an ugly place.
Like most of humanity, Wade Watts escapes his grim surroundings by spending his waking hours jacked into the OASIS, a sprawling virtual utopia that lets you be anything you want to be, a place where you can live and play and fall in love on any of ten thousand planets.
And like most of humanity, Wade dreams of being the one to discover the ultimate lottery ticket that lies concealed within this virtual world. For somewhere inside this giant networked playground, OASIS creator James Halliday has hidden a series of fiendish puzzles that will yield massive fortune — and remarkable power — to whoever can unlock them.
For years, millions have struggled fruitlessly to attain this prize, knowing only that Halliday's riddles are based in the pop culture he loved — that of the late twentieth century. And for years, millions have found in this quest another means of escape, retreating into happy, obsessive study of Halliday's icons. Like many of his contemporaries, Wade is as comfortable debating the finer points of John Hughes's oeuvre, playing Pac-Man, or reciting Devo lyrics as he is scrounging power to run his OASIS rig.
And then Wade stumbles upon the first puzzle.
Suddenly the whole world is watching, and thousands of competitors join the hunt — among them certain powerful players who are willing to commit very real murder to beat Wade to this prize. Now the only way for Wade to survive and preserve everything he knows is to win. But to do so, he may have to leave behind his oh-so-perfect virtual existence and face up to life — and love — in the real world he's always been so desperate to escape.
A world at stake.
A quest for the ultimate prize.
Are you ready?
My review:
I got this book free in a Loot Crate one month and I was super stoked, I'd heard good things about this book. Fast forward to now, and my friends have read and raved about this book and told me to get onto it because it's totally my kinda thing. They were right.
This book was awesome. It is the perfect blend of a rather sad bleak future, the 80's culture, and video games. The main character Wade/Parzival is the underdog, a smart loner who escapes reality by logging into the Oasis and searching for the magical egg left by an eccentric billionaire as his will/legacy, trying to solve the puzzle and win this in order to prevent the IOI (the bad guys) from getting it first and ruining the Oasis by making the free platform now charge monthly fees (and thereby ruining the one perk of this miserable world). The main characters are well developed, quirky, humorous, and you can't help but want them to win. The bad guys are a money-hungry giant company that you instantly dislike, and you don't really know if they will win or not.
The video game references were mostly lost on me, as I don't really know a lot of my early/80's video games, but this didn't detract from the story; I found myself enjoying the explanations of the games and the clever way they are integrated into the quests.
I devoured this book in about three sittings over two days, and as soon as I finished it, I wanted to start it again. I really would love to have more books written in this futuristic world that Cline has developed, with the Oasis and these characters, maybe a prequel about Halliday? But somehow I don't think that's gonna happen.
Final review:
Ready player one rating: 10/10. This was a damn good book
Would I re-read it? Hells yes, can I read it again right now?
Who would I recommend it to? Gamers. I am by no means a super-gamer-chick, but I know anyone who is a gamer will enjoy this book (can someone please develop the Oasis for real?!); anyone who is into the old-school 80's arcade games will love it; anyone interested in 80's culture; anyone into sci-fi with bleak but super-realistic futures; you know what, I recommend this book to anyone. It's just damn good. Read it now.
Links:
Goodreads:https://www.goodreads.com/book/show/12600138-ready-player-one
Wikipedia: https://en.wikipedia.org/wiki/Ready_Player_One
Amazon: http://www.amazon.com/Ready-Player-One-A-Novel/dp/0307887448
Random House: http://www.randomhouse.com.au/books/ernest-cline/ready-player-one-9780099560432.aspx
Fansite: http://readyplayerone.com/     (Normally I wouldn't link to this, but this site is awesome- lots of fan-made content, and its all pretty excellent)
Book depository: https://www.bookdepository.com/Ready-Player-One-Ernest-Cline/9780099560432
HOLY FUCKNUTS, they are developing a movie for this book- with estimated release Dec 2017. THIS IS AWESOME NEWS I AM SO EXCITED!!! If the movie is even half as good as the book, we are all in for a treat. Seriously.