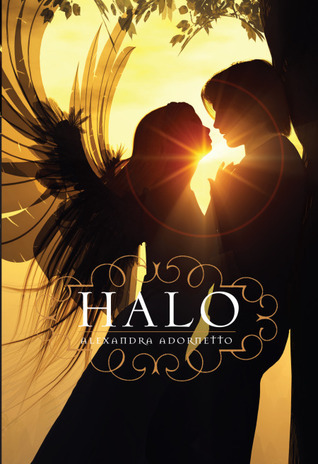 Published in: 2010
Pages: 484
Edition read: Paperback
Book #: Book 1 in the Halo trilogy
Book description:
Three angels – Gabriel, the warrior; Ivy, the healer; and Bethany, the youngest and most human – are sent by Heaven to bring good to a world falling under the influence of darkness. They work hard to conceal their luminous glow, superhuman powers, and, most dangerous of all, their wings, all the while avoiding all human attachments.
Then Bethany meets Xavier Woods, and neither of them is able to resist the attraction between them. Gabriel and Ivy do everything in their power to intervene, but the bond between Xavier and Bethany seems too strong.
The angel's mission is urgent, and dark forces are threatening. Will love ruin Bethany or save her?
My review:
I had been meaning to read this trilogy years ago but never got around it (a familiar story for all of us book fanatics, I'm sure). So when I found the first book of the trilogy in a second hand store, I had to buy it. I had such high expectations….
They weren't met.
I think the main issue is that this book is very much aimed (and written by) a teenager, who is incredibly young and very much in high school. The author herself was only 16 or so when she wrote this, and although the writing is very good, the tone of the story shows her age. The relationships are very high school, the feelings are very high school, and had I been that age when reading it I would have lapped it up. But being the disgusting age I am now (seriously not happy with how I suddenly seem waay old. I had a birthday yesterday and was horrified to realise how old I was, and how long it has been since I was in highschool!) so having that, I just could not relate to the characters at all.
I also wasn't entirely a fan of the religious bits here and there. I realise a book about angels is likely going to have some of the religious bits in it, but this kinda annoyed me. Every time they mention their god, they say "Him" or "He" and it irritates me, as they capitalise it and that irks me something chronic. No idea why, but it annoyed me.
I also was just rather bored throughout the story. The good parts happen towards the end, when the evil forces actually do stuff. Up until the last 30 or so pages, it was dull to read, and then it was mildly better, before going a bit boring again. I think I hate the main character Beth, which is also an issue.
Oh well. I might give the rest of the trilogy a go because… well, maybe it will get better?
Final review:
Halo rating: 5/10. It was meh. Not great, not terrible but rather dull to read. The writing style is good though, especially given how young the author was when she wrote this.
Would I re-read it? No, it wasn't really my kind of thing. Too young adult, too religious.
Who would I recommend it to? Young girls, high school age, will enjoy this book. It will be very relatable to them for sure.
Links:
Goodreads: https://www.goodreads.com/book/show/7778981-halo
Wikipedia: https://en.wikipedia.org/wiki/Alexandra_Adornetto
Amazon: http://www.amazon.com/Halo-Trilogy-Alexandra-Adornetto/dp/0312674368