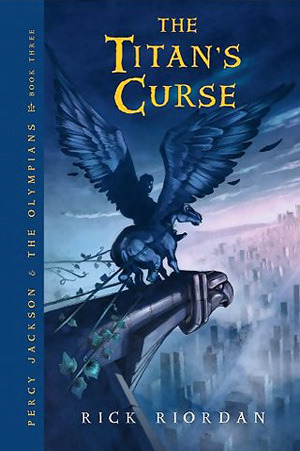 Published in: 2007
Pages: 320
Edition read: E-book
Book #: Book 3 of the Percy Jackson and the Olympians series
Book description:
When Percy Jackson receives an urgent distress call from his friend Grover, he immediately prepares for battle. He knows he'll need his powerful demigod allies at his side; his trusty bronze sword, Riptide; and . . . a ride from his mom.
The demigods race to the rescue to find that Grover has made an important discovery: two new powerful half-bloods, whose parentage is unknown. But that's not all that awaits them. The Titan lord, Kronos, has set up a devious trap, and the young heroes have just fallen prey.
My review:
Ok, so we are out of movies to compare this series to, so I have to focus on the actual books here rather than falling back on the movies that I had already seen. Which is how I prefer books, to be honest. Anyways, so this book was still the standard ok but would have been better had I been between the ages of 8 and 15 when I read it.
The mythology is sweet, the action is intense, the characters are fun, but I just can't seem to get into the books like I want to. I hate being an adult sometimes, it ruins some of the most fun books out there. Even so, it was a good book to read.
The story is slowly building to what will be the epic battle in the last book between Percy and Kronos, the evil titan who is central to these books and who is hell bent on reforming and taking down the Olympians, cause he's evil. We have the introduction of the Hunters of Athena, Nico the child of Hades, and the first and only story that Thalia features heavily in- she's a pretty cool character and I wish she featured more in the series. We also have Apollo turning up, and he is a nutjob with a sweet car and a habit of forming bad haiku's- I think I have my new favourite character of the series. Can we please get more bad Haiku's in the next books? They are seriously the best.
Final review:
The Titan's curse rating: 7/10.
Would I re-read it? I would
Who would I recommend it to? For fans of the series, I feel you need to have read the previous books to understand what is happening. For fans of Greek Mythology, children and young adults who enjoy action and adventure stories with young heroes saving the world.
Links:
Goodreads: https://www.goodreads.com/book/show/1581365.The_Titan_s_Curse
Wikipedia: https://en.wikipedia.org/wiki/The_Titan's_Curse
Authors website: http://www.rickriordan.com/books/percy-jacksons-world/percy-jackson-and-the-olympians/the-titans-curse