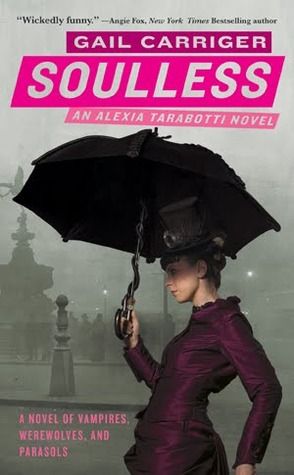 Published in: 2009
Pages: 373
Edition read: E-book
Book #: Book 1 in the Parasol Protectorate series
Book Description:
Alexia Tarabotti is laboring under a great many social tribulations.
First, she has no soul. Second, she's a spinster whose father is both Italian and dead. Third, she was rudely attacked by a vampire, breaking all standards of social etiquette.
Where to go from there? From bad to worse apparently, for Alexia accidentally kills the vampire–and then the appalling Lord Maccon (loud, messy, gorgeous, and werewolf) is sent by Queen Victoria to investigate.
With unexpected vampires appearing and expected vampires disappearing, everyone seems to believe Alexia responsible. Can she figure out what is actually happening to London's high society? Will her soulless ability to negate supernatural powers prove useful or just plain embarrassing? Finally, who is the real enemy, and do they have treacle tart?
My review:
Alexia is awesome. This book is awesome. I am in love with Conall, I usually don't go for werewolves in these books but he makes it work for me. Reading their courtship was refreshing, it was sweet and passionate at the same time and completely different to some of the stuff I've been reading lately. Not only that, Conall is also hilarious, in his stubbornness. It made me giggle and wish I had one of my own. I feel everyone needs a wildly overprotective alpha werewolf in their life!
I also enjoyed the steampunk feel to this book, it was fun to read about without being too in-your-face steampunk overdone.
I also enjoyed the way everyone spoke in this book, and this series overall. I have seen the terms "scandalous ankles" and "you hussy" and that has made my life complete- these are outdated terms that need to come back in fashion, and me and my friends have been yelling these at each other for years. So that made me giggle and love these books anymore. Who wouldn't like a series that calls ankles scandalous?!?!
Final review:
Soulless rating: 9/10. Very good indeed
Would I re-read it? Yes indeedy. I want to give it another go through right now
Who would I recommend it to? Fans of steampunk, paranormal romances, vampires and werewolves, old fashioned language, alternate history, and quirky characters. This book has all that in spades, and more!
Links:
Goodreads: https://www.goodreads.com/book/show/6381205-soulless
Wikipedia: https://en.wikipedia.org/wiki/Soulless_%28novel%29
Authors website: http://www.gailcarriger.com/books/parasol-protectorate-series
Amazon: http://www.gailcarriger.com/books/parasol-protectorate-series