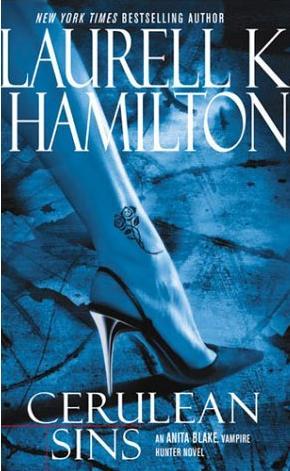 Published in: 2003
Pages: 529
Edition read: Paperback
Book #: Book 11 in the Anita Blake series
Book description:
Anita Blake is trying to get her life back to "normal" after a break-up with her werewolf lover. She has settled into a pattern of domesticity, which means that the new man in her life, the leopard shapeshifter Micah, has no problem sharing her with Jean-Claude, Master Vampire of the City. Things are as peaceful as they ever get for someone who raises the dead, when Jean-Claude receives an unexpected and unwelcome visitor: Musette, the very beautiful, very twisted representative of the European Council of Vampires. Anita soon finds herself caught up in a dangerous game of vampire power politics.
To add to her troubles, she is asked to consult on a series of brutal killings, which seem to be the work of something un-human. The investigation leads her to Cerulean Sins, a vampire-run establishment that deals in erotic videos, videos that cater to very specific tastes. Anita knows one creature of the night who has such interests — Jean-Claude's visitor. But if Anita brings Musette down, the repercussions could cost her everything she holds dear.
Once a sworn enemy of all monsters, Anita is now the human consort of both Master Vampire Jean Claude and leopard shapeshifter Micah. When a centuries-old vampire hits St. Louis, Anita finds herself needing all the dark forces her passion can muster to save the ones she loves.
My review:
Okay, so this book was actually good. I've been waiting for the switch from awesome stories to just smut, but it's not this book. I mean, there are lots of sex scenes, sure, but it's not as bad as I feared. There is even a decent underlying storyline that fills most of the pages, and the sex scenes that occur are actually integral to the story.
The visiting vampires are interesting and scary and I'd like to hear more about them and their back stories- being with Belle Morte for centuries must have warped them, I bet they were very interesting centuries and I bet their stories of how they came to be are also interesting. It'd be nice if Laurell dived back to some of those origin stories, but I doubt she'd do that.
The only real disappointment in this book is Dolph. He was a background character that I started off really liking, but he's become such an ass in the last few books, and this one he is just horrid in. I know that he's basically stayed the same and Anita is the one who has changed, but even so, he's so narrow-minded and its just horrible to read about. Seems like Laurell is killing the story from where it started, by removing the best background characters (Edward, Dolph, etc) and moving from solid stories to just bad sex scenes. It's really disappointing.
Final review:
Cerulean Sins rating: 8/10. I really enjoyed this book
Would I re-read it? Yes
Who would I recommend it to? Fans of Laurell's other work, for fans of paranormal romances and vampire books.
Links:
Goodreads: https://www.goodreads.com/book/show/30245.Cerulean_Sins
Wikipedia: https://en.wikipedia.org/wiki/Cerulean_Sins
Amazon: http://www.amazon.com/Cerulean-Anita-Blake-Vampire-Hunter/dp/0515136816