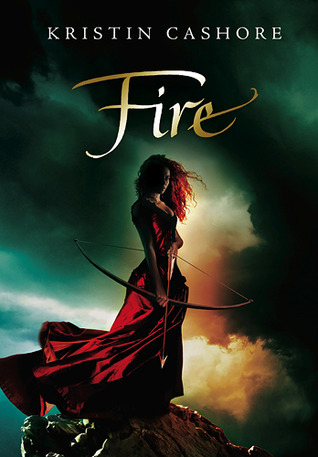 Published in: 2008
Pages: 352
Edition read: E-book
Book #: Book 2 in the Graceling Realm trilogy
Book description:
It is not a peaceful time in the Dells. The young King Nash clings to his throne while rebel lords in the north and south build armies to unseat him. The mountains and forests are filled with spies and thieves and lawless men.
This is where Fire lives. With a wild, irresistible appearance and hair the color of flame, Fire is the last remaining human monster. Equally hated and adored, she had the unique ability to control minds, but she guards her power, unwilling to steal the secrets of innocent people. Especially when she has so many of her own.
Then Prince Brigan comes to bring her to King City, The royal family needs her help to uncover the plot against the king. Far away from home, Fire begins to realize there's more to her power than she ever dreamed. Her power could save the kingdom.
If only she weren't afraid of becoming the monster her father was.
My review:
I loved this book!!!! Fire is a wicked character, and Prince Brigan is seriously awesome and I may have been slightly in love with him throughout this book (So glad that they ended up together, was worried Fire would end up with a few of the other characters). This world is different to the one in the first book of the series- it is in Dell, a place where people and animals can be unnatural colours, signifying them as Monsters- who have the power to allure others with their unnatural beauty. Fire, who is aptly named as her hair is a riot of flame colours, is a human Monster- a rare creature, alluring to all others, especially Males, and trying to make up for the sins of her Monster father, who really was a Monster- both inside and out.
There is a lot of adventure and action in this book as the characters fight a war, and we learn about the origins of Leck, who was king in the first book- this book is set about 40 years earlier than Graceling.
Although this book lacks the fantastic abilities and powers the people in the first book had, I found it to be more colourful and vibrant, with the Monsters and their weird unnatural beauty, which would be kinda cool to see in real life. Who wouldn't want to see a blue tiger with gold stripes?
Final review:
Fire rating: 10/10. Hands down favourite book of the trilogy
Would I re-read it? Hells to the yeah I would
Who would I recommend it to? Fans of the trilogy/first book will enjoy this. However, although the books are interconnected, you do not need to have read the first book of trilogy to read this one- it's a different world with only limited references to the Graceling book, so you can read this as a standalone if you wanted.
Links:
Goodreads: https://www.goodreads.com/book/show/6137154-fire
Wikipedia: https://en.wikipedia.org/wiki/Fire_%28Cashore_novel%29
Graceling Realm website: http://www.gracelingrealm.com/books.html
Amazon: http://www.gracelingrealm.com/books.html