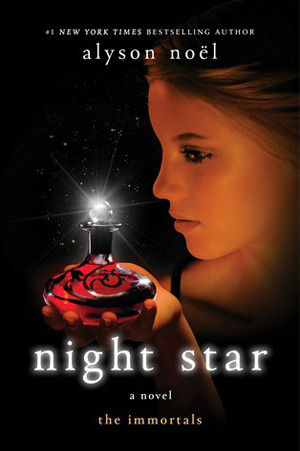 Published in: 2010
Pages: 302
Edition read: E-Book
Book #:  Book 5 in the Immortals series
Book Description:
Haven still blames Ever for the death of her boyfriend Roman, no matter how hard Ever's tried to convince her it was an accident. Now she's determined to take Ever down…and destroy Damen and Jude along the way. Her first step is to tear Ever and Damen apart—and she has just the ammunition to do it.
Hidden in one of Ever's past lives is a terrible secret about Damen—a secret that illuminates new facts about her relationship with Jude, but that's so dark and brutal it might be enough to drive her and Damen apart once and for all. As Ever faces her greatest fears about the guy she wants to spend eternity with, she's thrust into a deadly clash with Haven that could destroy them all.
Now it'll take everything she's got—and bring out powers she never knew she had—to face down her most formidable enemy. But in order to win, she must first ask herself: is her own survival worth dooming Haven to an eternity of darkness in the Shadowland? And will learning the truth about Damen's past hold the key to their future?
My review:

First book of 2015!
Unfortunately, it is of a series I am not a fan of, yet I am determined to read and finished. I am surprised to say that this book was not that terrible- the series has finally started to pick up. In fact, I will go so far as to say that this is my favourite in the series. Haven went from being this terrible background character to this evil addicted bitch, and I kinda love it. She's the most colourful character by far, and I was both saddened and triumphant by the end.
Unfortunately, Ever and Damen are as dull as they were in book 1, and even Jude has lost any attraction he may have had in the earlier books, so the characters overall are irritating. Except for Haven, who I have deemed the one redeeming character of this book.
Unlike any other book in this series, I found myself reading this and interested in what was happening, checking the clock and calculating how much time I had left to read before I had to get ready to go out and be social with friends-and how many pages I could get through in that time, which I haven't done with any other book in this series. Usually I am struggling to get through each page without rolling my eyes at Ever, but this book, this book I was engrossed and entertained and actually damn interested in the story. And it only took 5 books to get to this point!
Final review:
Night Star rating: 6.5/10. It's still not the best series, but this book is an improvement on the previous.
Would I re-read it? This series, no. This book in the series, potentially. It was actually not that bad, the story was interesting and kept me entertained, and the characters were less insufferable than before.
Who would I recommend it to? Fans of the series. Teenage girls between 12-18 who like paranormal romances.
Links:
Goodreads: https://www.goodreads.com/book/show/7739934-night-star
Author's website: http://www.alysonnoel.com/immortals/night-star.php
Wikipedia: http://en.wikipedia.org/wiki/The_Immortals_%28books%29
Amazon: http://www.amazon.co.uk/The-Immortals-Night-Star-5/dp/0330528114