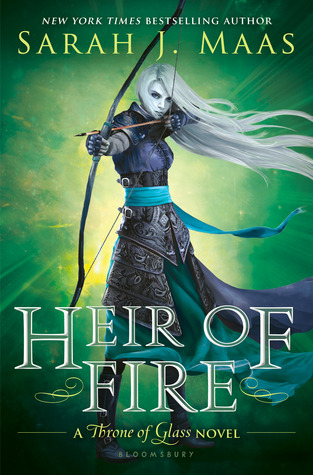 Published in: 2014 (it technically is not out yet….)
Pages: 565 glorious pages
Edition read: E-book (and no, I do not actually know how I came across this since it isn't out for two more months. Sheer luck?)
Book #: Book 3 in the Throne of Glass series
Book description: from goodreads.com
Lost and broken, Celaena Sardothien's only thought is to avenge the savage death of her dearest friend: as the King of Adarlan's Assassin, she is bound to serve this tyrant, but he will pay for what he did. Any hope Celaena has of destroying the king lies in answers to be found in Wendlyn. Sacrificing his future, Chaol, the Captain of the King's Guard, has sent Celaena there to protect her, but her darkest demons lay in that same place. If she can overcome them, she will be Adarlan's biggest threat – and his own toughest enemy.
While Celaena learns of her true destiny, and the eyes of Erilea are on Wendlyn, a brutal and beastly force is preparing to take to the skies. Will Celaena find the strength not only to win her own battles, but to fight a war that could pit her loyalties to her own people against those she has grown to love?
My review:
Like I said previously, no idea how I got a copy of this on my e-reader. It was just there and I went "HELLS YES NEXT BOOK GIMME GIMME"
So… there is Chaol, and there is Celaena, and I am not happy, and that is all I will say on that matter.
I had bad feelings about this Rowan character that turned up, I was concerned that he was going to move in on her… but thankfully, there is none of that. They are just friends and I wholly approved by the end. Just nothing more than that okay? Remember Chaol. REMEMBER HIM.
This book is full of revelations (THAT I SAW COMING FROM BOOK 1) and it is great, being so long and action filled and wonderful. We also have the addition of a few new characters, one who is… very interesting. A little scary, but interesting, and I am very intrigued as to how she and her coven fit in with the next book.
Overall, this was damn awesome and I devoured it in 3 days (well it was 500 pages, so it took slightly longer than the other books) and am now left still screaming "WHAT ABOUT CHAOL????
And those last 10 pages was just like WHAT? WHO? HUH? DON'T KILL THEM!! WHAT? NO!!!! SAVE THEM!!! AHH WHY ARE THERE HEADS ROLLING??? HOW COULD YOU!!!! WHAT?? HUH! OMG!!! YES!!!!! DORIAN TO THE RESCUE!!!!!! RUN YOU FOOL!!!!! RUN!!!!! WHY THE FUCK ARENT YOU RUNNING TOO???? SURELY YOU CAN ALSO RUN???? WHY ARENT YOU RUNNING???? NOOO!!!! NOOO GET THAT COLLAR AWAY FROM HIM!!!! WHAT ARE YOU DOING???? NO!!!!! HOW COULD YOU???? YOU ASSHOLE!!!! DIE KING OF ARDALAN.
*deep breaths*
So at the end, I was sitting there screaming at the pages of the book, then calming down, reading the rest of the page, flicking to the next one, and starting up a round of cursing and screaming all over again. Like… how could you do all that to me in the space of 10 pages?
But omg, so good. SOOOOOOO GOOOODDDDD… and the next book doesn't come out until next year. HOW WILL I COPE?
Final review:
Heir of Fire rating: 10000000000000000000000000000000/10. Simply amazeballs, and I am still reeling from everything that happened.
Would I re-read it? Considered starting it again in the lunchroom at work today… had to restrain myself from doing so. So yes, will read this again. Soon. Very soon. I have to do something until the next book comes out, next year sometime (Why is that so far away? Why can't I get the TARDIS to get me to next year's release date?)
Who would I recommend it to? Fans of the series. Fans of fantasy series. Fans of authors like Michelle Sagara and Maria V Snyder, and their brilliant series with similar kinds of worlds and characters and whole lotta amazeballness.
Links
Author's livejournal: http://sjmaas.livejournal.com/410098.html
Author's website: http://sarahjmaas.com/
Goodreads: https://www.goodreads.com/book/show/20613470-heir-of-fire
And, as a bonus, I also read the two extra scenes that were meant to be read before this book but I didn't realise until after I'd finished this book and sat there on my bed rocking silently and trying to process everything… which then lead to a desperate mad panicked search through goodreads for more things I can read in this world.
So here's two bonus reviews for the short stories that didn't warrant a full entry.
The Assassin And The Princess
Book #: 1.1 in the series
Pages: 12
An extra scene set between Book 1 and Book 2. This scene is about the friendship between Celaena and Nehemia and their outing to Celaena's favourite dress shop. We learn where she gets the dress she wears on her dinner date with Archer in the second book, and get a look at the girl's friendship, which is never in as much detail in the books.
My rating and review: 5/5. A fun little extra scene about the girls, I liked reading about their friendship and just experiencing a normal day for these characters, as everything in the books is so extraordinary.
Goodreads link: https://www.goodreads.com/book/show/18298506-the-assassin-and-the-princess
Follow that link to see links to read this scene online.
The Assassin and the Captain
Book#: 1.2 in the series
Pages: 4 pages
Another extra scene, set between Book 1 and Book 2. This scene is about Celaena's homecoming after her first mission as the King's assassin. Chaol, typical Chaol, is worried about her and is waiting for her by the gates as she rides on through. The scene details their conversation and shows Chaol's feelings for Celaena, and makes you wish you had your very own Chaol in your life.
My rating and review:5/5. Short, but a sweet little scene between my two favourite characters of this series. I still cannot fathom how things go so downhill in the second book, after little snippets like this where they are just sooo… perfect for each other. They compliment each other. HIs rigidness, and her wildness, make them perfectly suited to one another as he calms her down and brings her into line when needed, and she loosens him up when he needs it.
Goodreads Link: https://www.goodreads.com/book/show/18304007-the-assassin-and-the-captain
Follow that link to see links to read this scene online.