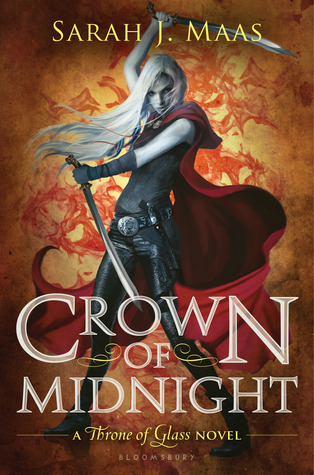 Published in: 2013
Pages: 420
Edition read: E-Book
Book #: Book 2 in the Throne of Glass series
Book description: From goodreads.com
From the throne of glass rules a king with a fist of iron and a soul black as pitch. Assassin Celaena Sardothien won a brutal contest to become his Champion. Yet Celaena is far from loyal to the crown. She hides her secret vigilantly; she knows that the man she serves is bent on evil.
Keeping up the deadly charade becomes increasingly difficult when Celaena realizes she is not the only one seeking justice. As she tries to untangle the mysteries buried deep within the glass castle, her closest relationships suffer. It seems no one is above questioning her allegiances—not the Crown Prince Dorian; not Chaol, the Captain of the Guard; not even her best friend, Nehemia, a foreign princess with a rebel heart.
Then one terrible night, the secrets they have all been keeping lead to an unspeakable tragedy. As Celaena's world shatters, she will be forced to give up the very thing most precious to her and decide once and for all where her true loyalties lie…and whom she is ultimately willing to fight for
My review:
AHHHHHHHH.
I think there was like 30 pages where I was grinning my head off in this book. 30 pages of blissful Celaena and Chaol interaction… and then my heart broke as Celaena's broke, and then I spent the rest of the book wanting them back together.
They have to get back together.
It has to happen.
Celaena, why are you hurting Chaol? Why? How could you do this to Chaol? CHAOL?????
I think I liked the story more in the first book, but the interactions more in this book. The storyline was fresh and fun and interesting in the first book… but in this book, character development and CHAOL AND CELAENA FOREVER (ahem. Sorry. Read this and tell me you don't feel the same).
The third book has to bring them back together right? I mean, that bit at the end… she surely has to care for him still if she gives him that amulet right? RIGHT?
Final rating:
Crown Of Fire rating: 10000/10. Now gimme the next book already
Would I re-read it? Hells yes. Amazing from start to end, even with the super mega sob-worthy heart-break I experienced when Celaena turns on Chaol (again, read it and tell me you don't feel the same!)
Who would I recommend it to? Fans of the series, fans of fantasy series similar to Chronicles of Elantra and the Study series. Although things are hinted at, it doesn't go into detail, so this is appropriate for a young adult audience (but no children, this is about an assassin after all).
Links:
Goodreads: https://www.goodreads.com/book/show/17167166-crown-of-midnight
Author's website: http://sarahjmaas.com/
Author's Livejournal: http://sjmaas.livejournal.com/410098.html
Amazon: http://www.amazon.com/Crown-Midnight-Throne-Glass-Sarah/dp/1619630621
Barnes & Noble: http://www.barnesandnoble.com/w/crown-of-midnight-sarah-j-maas/1114317571?ean=9781619630628
Book Depository: http://www.bookdepository.com/Crown-Midnight-Sarah-Maas/9781408834947