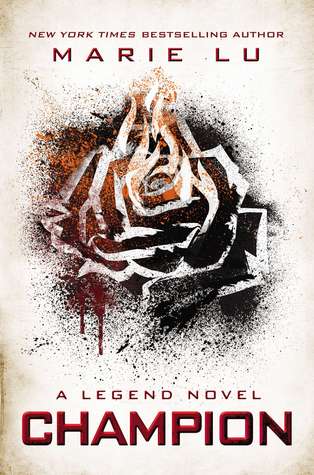 Published in: 2013
Pages: 369
Edition read: E-Book
Book #: Book 3, final book in the Legend trilogy.
Book description:
June and Day have sacrificed so much for the people of the Republic—and each other—and now their country is on the brink of a new existence. June is back in the good graces of the Republic, working within the government's elite circles as Princeps-Elect, while Day has been assigned a high-level military position.
But neither could have predicted the circumstances that will reunite them: just when a peace treaty is imminent, a plague outbreak causes panic in the Colonies, and war threatens the Republic's border cities. This new strain of plague is deadlier than ever, and June is the only one who knows the key to her country's defense. But saving the lives of thousands will mean asking the one she loves to give up everything.
My review:
AHHHHHHH WHAT WHY AHHHHHHHH
The feels towards the end of this book! I both can't believe what June did, and hell respect her for it. She really cared so much about Day, she was willing to turn on her own feelings to help him out. I was like…. O M G WHY. And then, the ending, it was like SQUEEEEEE and then sadness at everything they missed out on.
But, vague non-spoiler spoilers aside, this book was damn good. I stayed up late to finish reading it, when I was so tired I should have gone to bed at least two hours ago, but couldn't seem to do so without finding out how the book finished. And it was worth it. So worth it. This series…. so, so good.
I still have major feels about the ending though. It's been two days… and I still have such major feels.
Final review:
Champion rating: 10/10. Even with the ending, it's still a solid 10 rating. Loved it!!!
Legend series rating: 10/10. OMG this series was awesome. I can't believe it took me so long to read it.
Would I re-read it? Hells yes. I will be buying the series in paperback, so they can be put onto my bookshelf and admired, and then reading the series in paperback form, as everything is best in paperback or hardback, as opposed to e-reader.
Who would I recommend it to? Fans of young adult dystopian fiction. It appeals to a wide audience, can be read by younger and older, and is very action packed and very entertaining.
Links:
Author's website: http://marielu.org/
Series website: http://www.legendtheseries.com/
Goodreads: https://www.goodreads.com/book/show/14290364-champion
Wiki: http://legendmarielu.wikia.com/wiki/Champion
Amazon: http://www.amazon.com/Champion-Legend-Novel-Marie-Lu/dp/0399256776