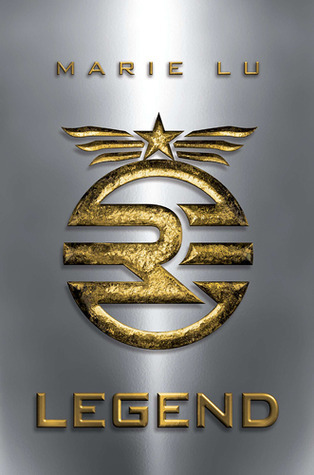 Published in: 2011
Pages: 305
Edition read: E-Book
Book #: Book 1 in the Legend trilogy
Book description:
What was once the western United States is now home to the Republic, a nation perpetually at war with its neighbors. Born into an elite family in one of the Republic's wealthiest districts, fifteen-year-old June is a prodigy being groomed for success in the Republic's highest military circles. Born into the slums, fifteen-year-old Day is the country's most wanted criminal. But his motives may not be as malicious as they seem.
From very different worlds, June and Day have no reason to cross paths – until the day June's brother, Metias, is murdered and Day becomes the prime suspect. Caught in the ultimate game of cat and mouse, Day is in a race for his family's survival, while June seeks to avenge Metias's death. But in a shocking turn of events, the two uncover the truth of what has really brought them together, and the sinister lengths their country will go to keep its secrets.
My review:
This book took a little getting in to, perhaps because I was trying to read it in the lunchroom at work (Not a great idea, I work with a chatty bunch and concentration on a book becomes pretty hard when everybody is talking loudly at each other) but eventually, I got into the swing of the book and damn, it was addictive. The two main characters, June and Day, are extremely likeable. They are the two sides of genius, the privelaged encouraged genius, and the poor street con genius, and it is interesting to see how each has developed in their different environments.
I do love stories where the government is super corrupt and there are a select few who are trying to fix it or bring it down. These stories also infuriate me majorly, I hate the injustice!
I look forward to the rest of the trilogy, this was a very strong start and a well-developed future world that I can actually believe occurring, which is important in any storytelling.
Final review:
Legend rating: 8/10
Would I re-read it? It was very good, so I think it's re-read material
Who would I recommend it to? Fans of young adult dystopian fiction. It's got two strong lead characters- Day, and June- so it appeals to both guys and girls, as it constantly switches between the view points of both characters (therefore, relatable by all). It's action packed and very fast-paced, and is appropriate for young adults- nothing inappropriate in this series! So it could even be read by a younger audience. And although young adult, it is something that would appeal to an older audience easily, as the language flows well, there is no dumbing-down or teenage terms (as some YA books can have) and is a good read.
Links:
Goodreads: https://www.goodreads.com/book/show/9275658-legend
Wikipedia: http://en.wikipedia.org/wiki/Legend_%28Lu_novel%29
Author's website: http://marielu.org/
Series website: http://www.legendtheseries.com/
Amazon website: http://www.amazon.com/Legend-Marie-Lu/dp/014242207X