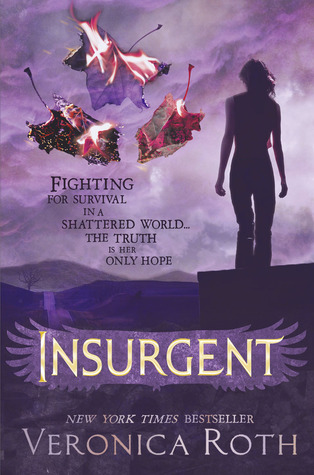 Published in: 2012
Pages: 525
Edition read: Paperback
Book #: Book 2 in the Divergent series
Book description: (from Goodreads.com)
Tris has survived a brutal attack on her former home and family. But she has paid a terrible price. Wracked by grief and guilt, she becomes ever more reckless as she struggles to accept her new future.
Yet if Tris wants to uncover the truth about her world, she must be stronger than ever… because more shocking choices and sacrifices lie ahead
My review:
This book is interesting as Tris and Tobias go through basically all the other factions, while trying to save themselves/the city/the world from Erudite. So you get a real good look at the rest of the city and how each faction is different, which builds the world up for the reader.
A lot goes on in this book, and Tris is dealing with a lot of guilt and sorrow over what happened in the first book and her roles in the deaths of friends and family members. I can't decide if I like this book more than the first or not. I think it's a close thing.
Final review:
Insurgent rating: 10/10.
Would I re-read it? I definitely would. This series is awesome!
Who would I recommend it to? Fans of the first book/movie, fans of young adult dystopian fiction. It doesn't have any of those silly love-triangles that a lot of YA books seem to have these days, which is refreshing.
Links:
Goodreads: https://www.goodreads.com/book/show/13480671-insurgent
Wikipedia: http://en.wikipedia.org/wiki/Insurgent_%28novel%29
Amazon: http://www.amazon.com/Insurgent-Divergent-Book-Series/dp/0062024043