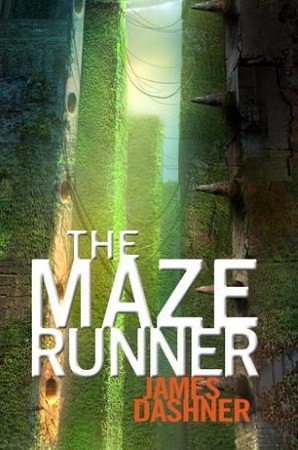 Published in: 2009
Pages: 374
Edition read: E-book
Book #: Book 1 in the Maze Runner trilogy
Description: (From goodreads.com)
"If you ain't scared, you ain't human."
When Thomas wakes up in the lift, the only thing he can remember is his name. He's surrounded by strangers–boys whose memories are also gone.
Outside the towering stone walls that surround the Glade is a limitless, ever-changing maze. It's the only way out–and no one's ever made it through alive.
Then a girl arrives. The first girl ever. And the message she delivers is terrifying.
My review:
Meaning to read this for years, finally get around to doing so when I realise that there is a movie coming out (so excited for this movie) and that the character of Thomas is being played by Dylan O'Brien (fangirl squeal here. Sorry, but this guy is adorably hot and slightly dorky and just a really great actor, so I am so stoked).
The book… oh, the book.
I have to say, this book was hard to put down. It is by far my favourite of the series (Yes, I have read and devoured the entire trilogy now, in the space of 10 days, and I loved them all, but this one most of all.) Thomas is in a world he knows nothing about, he has no memories, so as the reader, you learn as he learns. The maze is horrible and fantastic to imagine, you cannot fathom why anyone would create such a place, and it flows so well. There are no dull moments, no boring parts, and best of all, no love triangle. No love interest. No, this is just a pure awesome action adventure story and I really want to read it again right now.
Plus, I love Thomas. And Minho. Not a fan of Teresa, didn't mind Newt, poor Chuck! I thought he'd be with them to the end. Didn't see it coming for Alby or Gally!
Ah, the feels!
Final review:
The Maze Runner Rating: 10/10. This boook…. oh, this book. So amazing. So good.
Would I re-read it? I'm currently working my way through the last pages of the prequel to the series and seriously considering reading this book again once I've finished that. Seriously. It is just so good. I will most definitely read this again, and again, and again.
Who would I recommend it to? Fans of dystopian fantasies. This book, unlike others of recent fame (ie Hunger Games, Divergent, etc) is based around a group of teenage boys with no love interests. A refreshing change! It's something I think young guys will love to read, as it is a pure boys adventure and it is awesome. It's something I am definitely recommending to my younger brother, as it really seems like the kind of book I think he'd enjoy.
Links:
Goodreads: https://www.goodreads.com/book/show/6186357-the-maze-runner
Wikipedia: en.wikipedia.org/wiki/The_Maze_Runner
Amazon: http://www.amazon.com/The-Maze-Runner-Book-1/dp/0385737955
Author's website: http://jamesdashner.com/books/maze-runner-series/
And, I know I don't do this usually, but here is the trailer for the movie:
https://www.youtube.com/watch?v=64-iSYVmMVY
I just watched it again and got chills. It is just…. amazing.